Truck related accidents have been rising as more and more goods need to get to market. This coincides with a decrease in truckers. In fact, many trucking companies are having a hard time recruiting potential drivers. With more goods to haul, this comes at a bad time. Because of this, some trucking companies have begun to lower their expectations. This causes a problem for other motorists who depend on truckers to drive in a prudent fashion. Let's look at the requirements to become a trucker in California, how some drivers are poorly screened and problems that are affecting drivers nationally.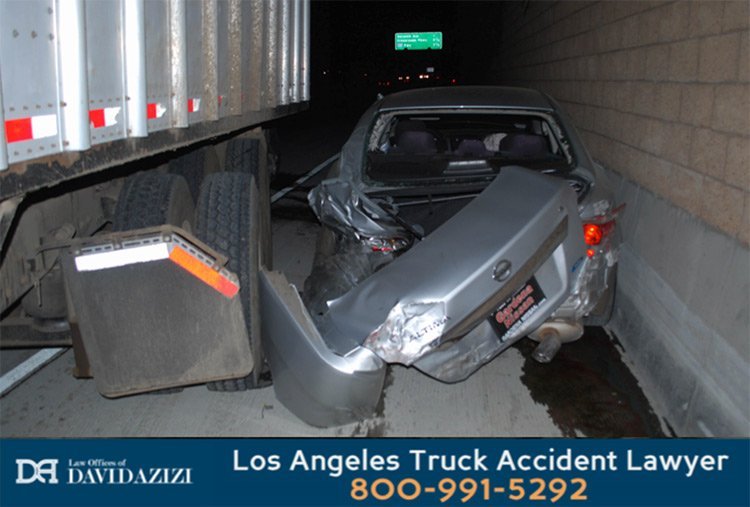 Los Angeles Injury Lawyer: Holding Trucking Companies Accountable
Los Angeles trucking injury lawyer David Azizi has practiced personal injury law for 25 years. He offers clients compassion and dedication to fighting for their rights. Using this mix of legal acumen and diligence, David wins 98 percent of his cases. Year after year, the legal ranking firm Super Lawyers calls him one of the top personal injury lawyers in Los Angeles.
If you have been hurt by a negligent trucker, reach out to David at (800) 991-5292 to schedule a free case review. David will provide you with the options you have going forward. He will also give you an estimate of what your case is worth. The case review is free, and there is no charge for David's services until you win your case. If the case is not successful, you don't pay a thing.
Requirements for Driving a Truck in California
Truck drivers must fulfill the following requirements to be allowed to drive a truck in California:
Have a GED or proof of graduating high school
Have a good driving record
Be 18 years of age to drive in California and 21 to drive out of state
Have a Class D license for one year and not have any marks against it
Must possess a Social Security card
Be a California resident
Be able to pass a 10-year background check
Have insurance
Undergo and pass a medical examination
Be able to pass TSA screening
Pass drug tests during screening and periodically afterward
Tests That a Truck Driver Must Pass
There are two parts to the truck driver licensing test. The first is a test that looks at your knowledge of safety rules and your acumen about driving on the road. The second part is the skills test. This has three parts. They center on-road driving, vehicle inspection and control and operation of a truck. Schools are available that help the would-be trucker bone up on all aspects of the testing. Once it is passed, the trucker will be issued a CDL license.
Problems Facing the Trucking Industry
Aside from fewer drivers applying to be truck drivers, other issues are complicating the safety profile truckers should have. For instance, the trucking industry has worn down a good portion of the government's resolve to put safety first when it comes to trucking companies. This means carefully adhering to the requirements for hiring drivers and relaxing many of the rules meant to keep everyone safe.
Advocates are asking Congress to extend the weight of a tractor-trailer beyond 80,000 pounds and increase the weight limits on individual trucks. Some are pushing for fewer rest periods when truckers already work 70 hours per week. In addition, some companies are paying drivers less by overlooking some of the rigid requirements they must pass. Take, for instance, a trucker's requirement to inspect and control their vehicle. By decreasing the standard for compliance, the companies lower the bar on safety and increase the probability of accidents.
What This Means When You Have an Accident
If the trucker's ability to drive a truck and adhere to the rules is less than what they should be, the chances of an accident are increased. Considering that the trucks weigh on average 80,000 pounds, this is a daunting thought. Your lawyer can investigate the trucker to see if they met all the requirements. Even if they did, an attorney can check mandatory records that a trucker must keep seeing if inspections were done and if corrections were made if a problem was found. By doing this, the attorney can build a strong case against the trucker and his or her employer. Trucking companies often try to hide mistakes and it is up to your attorney to prove infractions led to the accident.
Free Case Review: Lawsuits for Los Angeles Truck Accidents Involving Poorly Screened Drivers
David Azizi is a well-known and respected lawyer in Los Angeles. When you are hurt in an accident with a big rig due to the trucker's or the trucking company's negligence, you have the right to be compensated. In order to obtain the compensation you deserve, it is important to have the insight a personal injury lawyer can provide. Injury lawyers work on a contingency basis, which means that you won't pay a thing until you win.
David Azizi can be reached at (800) 991-5292 for a free, no-obligation case review. If it is more convenient for you, you can also connect with him online by using our contact form. David will review your case to give you an estimate of what it is worth and to provide you with your options going forward.