Drunk driving is one of the major reasons fatal and non-fatal accidents happen in California. These are especially dangerous when truck drivers and large 18-wheelers are involved. It is a criminal offense in the state as elsewhere, and violators face steep fines and even jail time. Unfortunately, the consequences are not enough to stop people from driving drunk. While there is an alcohol limit at or beyond which the driver is considered intoxicated, even small amounts of alcohol can affect a motorist's driving skills. In some cases, the driver can even be charged with second-degree murder if he or she had previously been convicted of a DUI. The question many people ask is why with all these reasons not to drive drunk does it continue to be a persistent problem.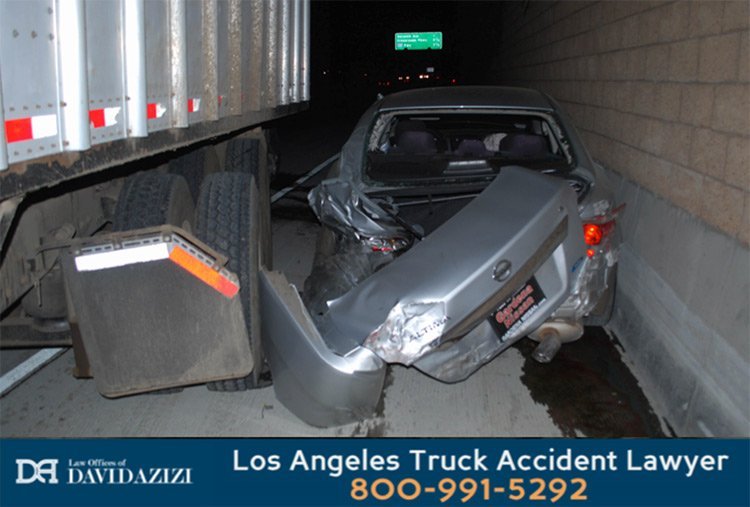 Trucking Lawyer for Drunk Driving Accidents in Los Angeles
Drunk driving accidents can end in catastrophic or fatal injuries. For the injured party, this can cause serious financial harm due to the cost of medical care, hospital stays and lost wages. In some families, the drunk driving accident robs them of a loved one who is unexpectedly taken away. David Azizi has helped many people in the Los Angeles area receive the compensation they deserve. As a Los Angeles truck accident attorney, he investigates the crash, speaks to witnesses and obtains video footage of the accident if possible.
David wins 98 percent of his cases by using the investigative data he accumulates to build a strong case against the defendant. If you have been hurt in a drunk driving accident, call David at (800) 991-5292 to set up a free case review. David will evaluate your accident and give you an estimate of what it is worth as well as your options going forward. The sooner David starts, the fresher the evidence will be.
Incidence of Drunk Driving
In 2016, about 1 percent of drivers were taken into custody for driving drunk. However, self-reporting surveys show that 111 million drivers say they drink while driving each year. This staggering admission shows that an accident involving alcohol is a hair's breadth away on any given day. Twenty-nine percent of all traffic fatalities were caused by drunk driving in 2017. That means, of the over 37,000 people in this country who were involved in an accident, close to 11,000 were killed by a drunk driver whose blood alcohol concentration was over 0.08 percent.
Delving into that number shows that 68 percent of them died in a crash where one of the drivers had a BAC level of 0.15 percent. Thirty percent of those killed due to drunk driving were between the ages of 25 to 34 followed by 26 percent of those 21 to 24.
Underage Drivers
While the number of drunk drivers under 21 has decreased in recent years, a minimum of 10 percent of this population were killed in accidents involving alcohol. Approximately 17 percent or 214 children 14 and under were killed in drunk driving accidents in 2016.
Motorcyclists and Drunk Driving
Drunk driving accidents are not limited to those driving vehicles with four wheels. In 2016, 25 percent of motorcyclists were killed due to drunk driving. In this group, people 35 to 39 are involved in the greatest number of fatalities.
How Alcohol Affects Truck Drivers
Depending on the amount of alcohol you drink, you can experience the following:
Two drinks or a Bac level of 0.02 percent: Judgment can be affected even at this level. The ability to multitask dwindles, and tracking a moving object becomes harder.
After three drinks with a BAC level of 0.05 percent: Small muscle function (vision) and cognitive judgment are impaired. Alertness and inhibitions are lowered, and behavior may be exaggerated. It may become harder to steer the vehicle properly, and coordination is usually affected. If an emergency situation arises, the driver's ability to deal with it will be affected.
Four alcoholic beverages or a 0.08 percent BAC level: This is the level at or above in which a person is considered to be driving drunk. Vision, hearing, concentration, balance and speech are poor. Memory, judgment and reason are all affected at this level. The ability to control the vehicle's speed is also lost.
After a 0.10 percent BAC level has been reached or five drinks: Expect the driver to have slurred speech and an increasing lack of coordination. He or she will also have trouble braking or maintaining their lane in addition to other issues.
After seven drinks with a BAC level of 0.15 percent: The driver will experience such symptoms as vomiting or be unable to walk or stand up without difficulty. At this point, the driver's ability to operate a motor vehicle appropriately is usually lost.
What a Truck Driver Can Do to Eliminate Drunk Driving Accidents
There are measures each driver, including truckers can take to avoid drunk driving accidents:
Do not drink and drive. It is that simple. If you want to have a few drinks when you go out, call a taxi or Uber for a safe trip home. If a friend has not imbibed, let them drive you home.
Make plans for getting home before you leave. If you are going to call a taxi or a ride-sharing service, put the telephone number in your phone. If you can, load the Uber or Lyft app on the phone too.
When you have a party, it is your responsibility to make sure guests have a safe way home. This might be with a designated driver or by having the phone numbers of local taxis or Uber at your disposal.
When a friend has been drinking, be forceful and tell them not to drive. If possible, take their keys.
When your teens go to a party, check ahead to make sure alcoholic beverages are not being served. It may be better to arrange a ride home for them ahead of time. They may appear angry, but they will be alive to grow into the people you know they can be someday.
What a Truck Crash Lawyer Can Do for You if a Family Member Is Killed
When a drunk driver killed someone in your family, you are probably overwhelmed by grief that they are gone and anger that someone took them away. While it is true that no amount of money will quell your grief, the anger you feel will be helped by taking the negligent person to task in a wrongful death lawsuit. Your lawyer will be able to investigate the crash to determine how it happened and interview witnesses. He or she will check for traffic cams in the area. Your attorney will also check to see what citations were issued against the driver and whether they were charged criminally for your loved one's death and if they had previous DUIs. These are important factors in the case against the drunk driver.
Free Case Review with Los Angeles Drunk Driving Truck Law Firm
David has been called one of the top personal injury lawyers in Los Angeles year after year by Super Lawyers, a renowned legal ranking service. He will give your case the attention it needs and be available to you when you need to speak to him. David even gives clients his personal cell phone number so they have a clear line of communication available to them. Call (800) 991-5292 to set up a scheduled free case review. You can also reach out to David online if that is more convenient.